<!center><!video controls controlsList="nodownload" src="/video/Gameshows.mp4"><!/center><!br>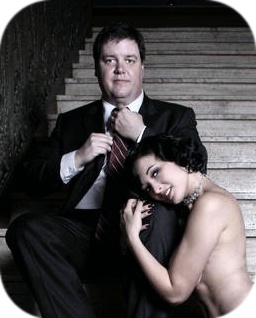 For an hour and a half on Saturday night the main ballroom changes over to a format not typically seen at fandom culture conventions. At 9:00, after the costume competition, ALL-CON presents burlesque on the big stage.

If you're 18 or over with i.d., there's no way you're going to want to miss out on these moves. Reserved seating is available for $25. (Number of seats is limited.) This is otherwise a FREE performance open to all ALL-CON attendees of age, while any remaining seats last.

In 2010 La Divina Burlesque took over as the professional booking agent for the burlesque performance at ALL-CON.

Diamond Jim is entrusted with the task of putting together a tasteful performance certain to leave every member of the audience satisfied that the art of burlesque is alive and well.

With the new longer time slot the performace has been expanded to include both burlesque and boylesque performers; a show for everybody!

Need to link for Reserved Seating? Click Here to go to the ticket page.

---
---
2019 Showcase:


| | | |
| --- | --- | --- |
| Ruby Joule | | Black Mariah |
| | | |
| --- | --- | --- |
| Doris Knight | Jett Adore | Audrey Scorn |
| | | |
| --- | --- | --- |
| Ruby Lead | | Lily Liqueur |
---
---
2016 Featured Talent!:


| | |
| --- | --- |
| La Divina | Jett Adore |
| | | |
| --- | --- | --- |
| Black Mariah | Ruby Joule | Minxie Mimieux |

Doris Night

Violet D'Vine

Diamond Jim, M.C.
Promoter / Manager
La Divina Burlesque
---
---
2015 Features All Top-Billed Performers!:

Ruby Joule

Jett Adore

Vivienne Vermuth

Donna Denise

La Divina

Sasha Dahl

Cat de Lynn

Black Mariah

Diamond Jim, M.C.
Promoter / Manager
La Divina Burlesque
---
---
ALL-CON's 2014 All Star Line-Up!:

La Divina



Ruby Joule

Minxie Mimieux
Photo: Grace Hill Photos.

Amber DeVille



Black Mariah

Angie B'Lovely

Blaze



Diamond Jim, M.C.
Promoter / Manager
La Divina Burlesque
---
---
Full Cast from ALL-CON 2013 Burlesque:

Ruby Joule



Bazuka Joe

La Divina

Iris Le'Mour



Black Mariah

Amber DeVille

Marilyn Morouge



Minxie Mimieux

Diamond Jim, M.C.
Promoter / Manager
La Divina Burlesque
---
---
Lovely Ladies from ALL-CON 2012:

La Divina
"Best Soloist" 2009
Texas Burlesque Festival



Black Mariah



Donna Denise


Blaze



Lula Houp-Garou

Diamond Jim, M.C.
Promoter / Manager
La Divina Burlesque
---
---
Performers from ALL-CON 2011:

La Divina
"Best Soloist" 2009
Texas Burlesque Festival



Jolee Blon



Black Mariah



Angie B' Lovely
"Best Soloist" 2010
Texas Burlesque Festival


Cora Coquette



Blaze
---
---
Performers from
ALL-CON in 2010:


La Divina


Black Mariah


Cora Coquette


Ginger Valentine


Rose Darling