<!center><!video controls controlsList="nodownload" src="/video/Gameshows.mp4"><!/center><!br> <!center><!img src="/2020/images/menu/review.jpg"><!/center><!br> <!!! ALL-CON LLC>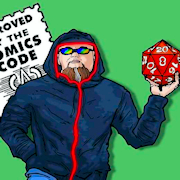 Geeky Hoody

Geeky Hoody

Facebook:
facebook.com/GeekyHoodyTheGeek

Youtube:
youtube.com/c/GeekyhoodyBlogspotG33K3

---
SAT 7:00p.m.: The Challenge of the All-Father (Charity D&D Game) (2 hrs. 45 mins.)

Room: DOGWOOD (2nd Floor, Left) Rated: Teen

Produced By:

Moderated By: Geeky Hoody

A Dungeons and Dragons Charity Game.

The Players: Local Celebrities and possible Special guests to join in,

For a donation, you get to give suggestions to change up the game.
i.e. Give a character a unique magical item, make the character talk like a special character through out the game, make the DM work in a suggested scenario, etc... Whatever you can come up with, within reason. :)

All proceeds will go to Extra Life!

Extra Life unites thousands of gamers around the world to play games in support of their local Children's Miracle Network Hospital. Since its inception in 2008, Extra Life has raised more than $50 million for sick and injured kids.

Category: Activity